RanTom Thoughts/20071003 The Big Day Fast Approaches
Jump to navigation
Jump to search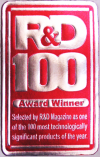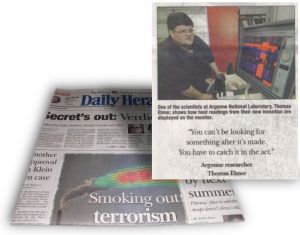 Just a quick wrap-up: I'm one of the winners of an R&D 100 award this year. There has been a ton of press about it. (The PR department timed our main Argonne press release to coincide with 9/11 since our research was in the anti-terror field.) Sami has been interviewed on the radio, we have been in the newspaper (twice), and we were the featured article on the Argonne homepage for two weeks. We have shown up in news from China to Iran, from Yahoo! News to Forbes.
It's been an exciting ride! :)
Jana has bought her tickets to come over, and our awards banquet tickets are confirmed. Yesterday I finally picked up my tuxedo, so everything is ready to go! (Except for transportation.) (I even got my Argonne business cards today!)
Now R&D Magazine has finally put their official list of 2007 R&D 100 Award Winners online and the magazine has gone to press. (We're under Environmental -- right across the page from Lego Mindstorms NXT -- how cool is that?)
15 days and counting down until the dinner at the Grand Ballroom at Navy Pier (That's the big green-roofed section at the end of the pier [1].). Now it's time to get really nervous!