RanTom Thoughts/20070704 Red Letter Day
Jump to navigation
Jump to search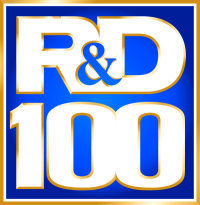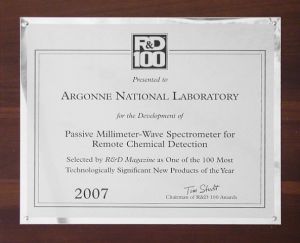 Argonne has now released their press release, so the embargo is lifted and I can now officially announce this. --

Tometheus (talk) 10:33, 8 August 2007 (CDT)
R&D 100 Award!
OK, today's July 4th, a red-letter day on the calendar, but it's been a red-letter week for me this week. I've been stumbling around in a daze all week since I found out what I'm going to share today. This is huge! I mean, gigantic, enormous, so incredible terribly huge in my life that I've been scared to share it in case it wasn't true or I was dreaming. However, now I have a copy of the fax and it's finally starting to sink in on me that it's really happening. Now I can share it with everyone else. (Also I've been holding off due to something else that happened this week.. see below.)
I am one of the winners of an R&D 100 award!
(Along with my 3 other co-inventors of course.)
That just totally amazes me even a week later.
For those who aren't in R&D, let me explain. This is huge! I mean, gigantic, enormous, so incredible terribly huge in my life that ... oh wait, we've been there already. This is as big as it gets for someone in R&D. This is something that most people don't get in entire lifetimes. It's not hyperbole when the Chicago Tribune calls it "The Oscars of Invention" [1]. (I mean, I'm going to have to actually rent a tux and all.) Short of getting a Nobel Prize, this is as good as it gets -- and the Nobel Prize doesn't really cover the "D" side of Research and Development.
The Passive Millimeter Wave Spectrometer for Remote Chemical Detection that you submitted[2] in the 2007 R&D 100 awards program has been selected by the independent judging panel and editors of R&D Magazine as one of the 100 most technologically significant products introduced into the marketplace in the last year. [3]
One of the 100 most technologically significant inventions in the last year -- in the entire world. I'm still trying to wrap my head around that.
This is how the DOE's Office of Science describes the award [4]:
Widely recognized in industry, government, and academia as a mark of excellence for the most innovative ideas of the year, the R&D 100 Awards are the only industry-wide competition rewarding the practical applications of science.
The R&D 100 Awards recognize the most promising new products, processes, materials, or software developed throughout the world and introduced to the market the previous year. Awards are based on each achievement's technical significance, uniqueness, and usefulness compared to competing projects and technologies.
I'm still trying to grasp that they're talking about the invention I worked on. I mean, all we did was take existing ideas and apply them in completely new ways, what's so special about that?? ;) They must have really liked the video I made for the submission or something. :) (Yes, that's my voice.)
Now I'm starting to get congratulatory e-mails and the Office of Technology Transfer at Argonne has told us to go through them for all of the details. They will pay for the awards dinner, the extra plaques, presentations, etc. The official awards banquet will be at the Grand Ballroom at Navy Pier in October. (Black Tie Formal, which means I will need to rent a monkey suit.)
The only downside is that now there's nobody around here with whom I can share the excitement. (Other than co-workers, of course.)
You are immediately free to announce to the media your selection as an R&D 100 winner -- There is no embargo.
--

Tometheus (talk) 20:42, 4 July 2007 (CDT)
Press Releases
See also my media page for radio/TV/newspaper clips.
Notes
It looks like OTT will pay for the banquet for me + 1 guest and a personal plaque. (That's a $750 package, not including photos and posters, etc.) Now to just find 'guest' :D -- Tometheus (talk) 09:48, 6 July 2007 (CDT)
Argonne has now released their press release, so the embargo is lifted and I can now officially announce this. -- Tometheus (talk) 10:33, 8 August 2007 (CDT)
Since I didn't have any romantic interests lined up and had to turn in the name this week, I invited Jana to go as 'guest'. It gives her a chance to visit her grandmother (who recently had a stroke) while she's here. Also, I have to say, she looks better in a dress than Magnus or my other friends, no offense intended ;) ) -- Tometheus (talk) 14:31, 8 August 2007 (CDT)
Strange week all around
This last week has just been a strange week all around for me.
Previous week: I found out that I'm going to have to go on half-time until the end of the fiscal year at Argonne due to our project's funds running dry sooner than we expected. (150 hours of senior staff time was charged to the project for someone not involved in it.)
Tuesday: Left cel-phone at work at Unilab
Wednesday: Mom went into the hospital, however, I was at Argonne, so I didn't have my phone yet.
Thursday:

~9:30: Checked my messages, found out mom was in the hospital with severe bleeding.
~9:40: Sami called from Argonne to tell me we won the R&D 100 award
13:30: Finally got through to my mom and found out that the C word was being mentioned (Cancer)
17:00 Went to deposit my paycheck and the machine ate my check without crediting me for it and wasn't able to return the check.

Friday: The bus I was returning home on was involved in an accident with a delivery van. However I did find a new route home.
Monday: I find out that Payroll at Argonne has returned my timecard due to insufficient funds on the project, but I finally saw the fax announcing our award.
Yesterday: I received a letter from the bank saying that I have to track down a copy of the check somehow and send it to them or have my boss stop payment and give me a new one. Nothing about them sending a technician out to the machine and actually investigating it since the machine still has the check in question, nooooo. That would be too customer friendly and logical, wouldn't it? Mom's news: The cancer biopsy came back negative and she can return home.
Today: 4th of July! Yay! Just heard from mom and she's home and OK, so now the partying can begin. (Later: I just found out I can see four different fireworks shows from the alley by my apartment. Cool!)
'Tomorrow': (and the paycheck saga continues. Dr Siva gave me a duplicate check, but I was so absent-minded I left it in the copier after making copies for the bank.)
--

Tometheus (talk) 20:42, 4 July 2007 (CDT)
External links